Angel Locsin Tastes Her Own Medicine, Failed Crowd Control
Manila, Philippines - Angel Locsin just tasted her own medicine when she failed to implement proper crowd control measure during her own version of 'community pantry'. The actress who always challenge the government recently drew flak online after she failed to implement public safety which led to the death of a poor man during the activity organized by Locsin.
Amid the corona virus or covid-19 pandemic, Angel Locsin set up a community pantry to mark her birthday in Barangay Holy Spirit in Quezon city. Hundreds of individual reportedly flocked to the area expecting to get some goods in the community pantry .
At 3am, a man identified as Rolando dela Cruz, 67 years old, queued patiently waiting an early turn to receive the food aid from Angel Locsin but he suddenly collapsed due to massive gathering of people in the area. The man was rushed to East Avenue Medical Center where he was declared dead on arrival at around 9 a.m. according to Quezon City Police District (QCPD).
A netizen bravely shared her thought regarding the failure of Angel Locsin to implement effective crowd control. Kristine Pauline Poso Dimalaluan says,
"You see, Angel? You can't even manage a small crowd though you have everything already planned out. Or, "talagang bang planado at pinag-isipan yan? Parang hindi eh, kasi pumalpak" - linyahan nyo to di ba. Now, we are slamming it back to you.

You are one of those people who seek for plans, pero, ikaw di makapag-isip ng magandang plans. How can you manage the whole country, then? Diba ang hirap maging Presidente? Minsan kasi, hinay-hinay sa pagpupuna dahil before you know it, lumulubog ka na pala sa sarili mong kumunoy."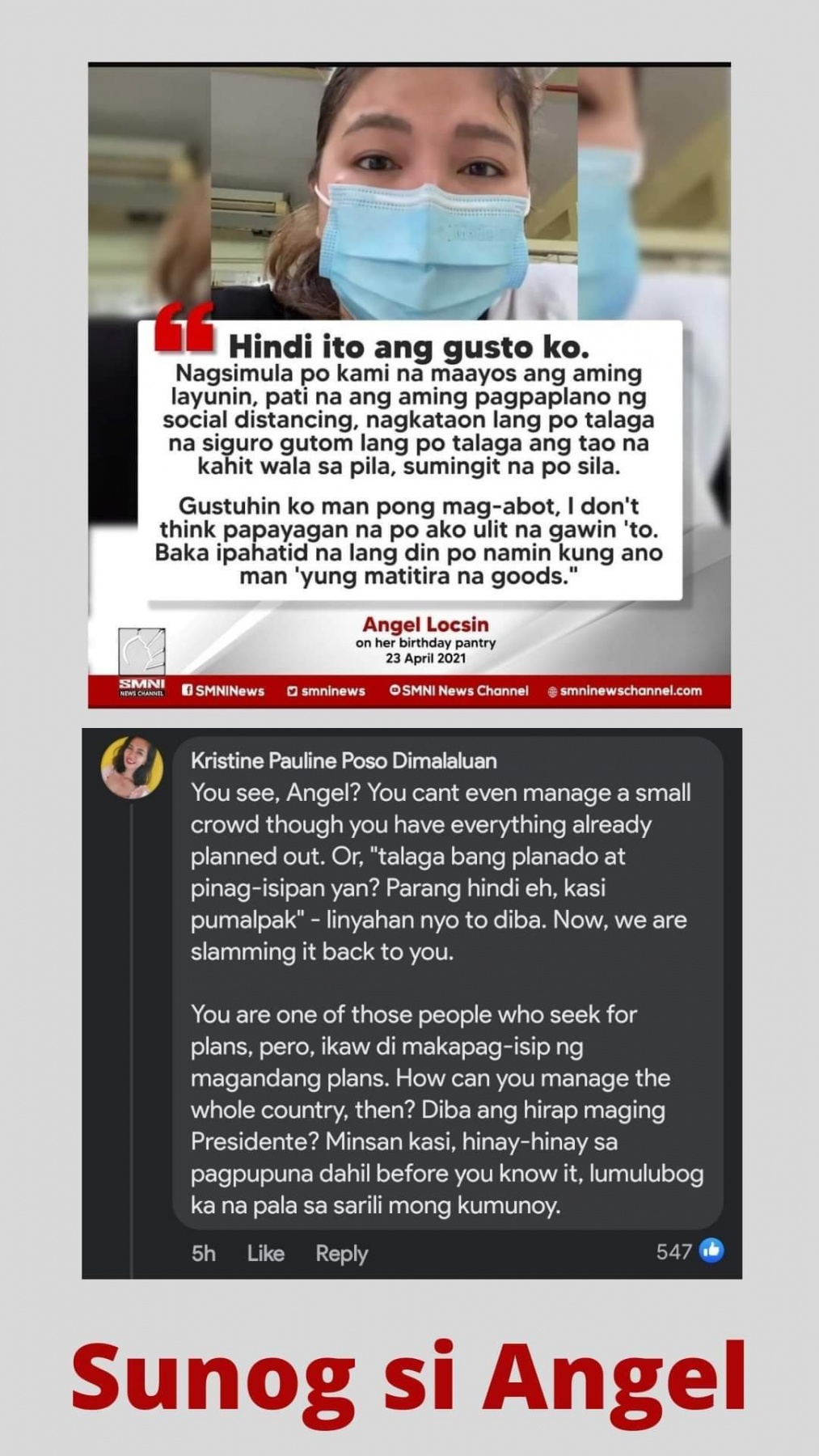 Later on, Angel Locsin turned to her social media account to issue public apology and forgiveness to the bereaved family of Rolando dela Cruz.
"Bago po ang lahat, humihingi po ako ng tawad sa pamilya. Kanina po pinuntahan at nakapagusap po kami ng personal ng mga anak nya sa ospital. At habang buhay po ako hihingi ng patawad sa kanila."
Locsin said she contacted the city hall, police, military and barangay officials for help, but even with assistance it was very difficult to control the ever growing crowd. A statement which is contrary to QC official press release citing the comment of Mayor Joy Belmonte who said, "it would have surely made a difference" had they been advised about Locsin's pantry.
"Advanced coordination will allow all stakeholders to be proactive, rather than reactive. Sadly, in this case, we were not advised regarding any plans," she said.
This work is licensed under a
Creative Commons Attribution-NonCommercial 4.0 International License
.