Nakakatindig Balahibo: Mayor Allan Rellon Send Off Program Inspires Volunteers To Achieve Mission
Tagum City, Philippines - Mayor Allan Rellon attended the Covid City Task Force Relief Operations today April 1, 2020 at 6am which was held at the Atrium, City Hall of Tagum. The hardworking and dedicated chief in the city delivered an inspiring message to all the dedicated volunteers. He acknowledged the precious time and efforts allocated by all frontliners in helping the packaging of relief goods which are scheduled to be delivered across 23 Barangays.
For many nights and days, Tagumenyos gathered and worked altogether to pack rice, instant noodles, and canned goods in preparation for the distribution of relief assistance today. The team once again gathered this morning in front of Mayor Allan Rellon for the final words of encouragement before they go out to various communities to dispatch the food items. City officials and other volunteers jointly prayed as well for the success of the relief operations today.
During the send off program, photos taken by Tagum Photographer clearly showed tons of relief goods which filled out the entire Atrium building. Several pictures also revealed the use of private vehicles to transport the goods while military men use their combat tructs to help move the food packs.
The official Facebook page of City Government of Tagum posted this activity with a caption that reads;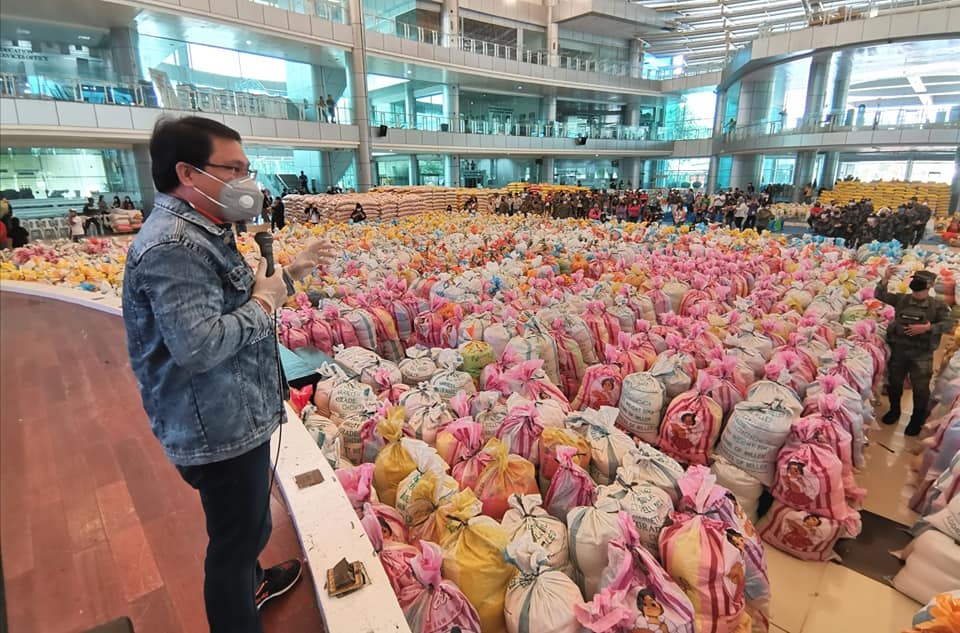 Photo credit: Tagum Photographer
Mayor Allan Rellon led the send off of the relief pack distribution teamsthis morning at the atrium of the city hall. The teams will be dispatched to the 23 barangays of Tagum and simultaneously delivery food packs consisting of rice, noodles and canned goods to the scheduled puroks for today.
Let us win this together Tagumenyos.
Meanwhile, volunteers were surprised during their distrubution in different Barangays when they were greeted with posters with a message;
"PASS! Ihatag na lang sa mas nanginahanglang pamilyang Tagumenyo ang amoang relief packs".
You might want to know full details as to why Tagumenyos declined to accept relief packs by reading the story here.
This work is licensed under a
Creative Commons Attribution-NonCommercial 4.0 International License
.