Inspiring! Tagumenyos With Enough Food and Budget Decline Relief Goods (Will Benefit Other Families)
Tagum City, Philippines - Residents of Tagum City declined to accept relief goods and donations from the government. They instead urge volunteers to distribute the goods to families who could barely afford to have meals on their tables during this community quarantine period brought about by the rapid spread of corona virus also known as covid-19.
Several families in Tagum City opted not to accept relief pack assistance which has been distributed by the local government headed by Mayor Allan Rellon on April 1, 2020. Families with enough budget for food posted signage at their gates with a message, "PASS! Ihatag na lang sa mas nanginahanglang pamilyang Tagumenyo ang amoang relief packs."
Officers of the city government immediately posted photos of such encounter through their official Facebook page to thank and share the kind gestures of their constituents. They also issued assurance to the residents that they will surely route the relief packs to those families who are truly in need of food assistance.
We also previously noticed that SP Gazmen who works in Davao Regional Medical Center(DRMC) posted such call on her Facebook status dated March 27, 2020.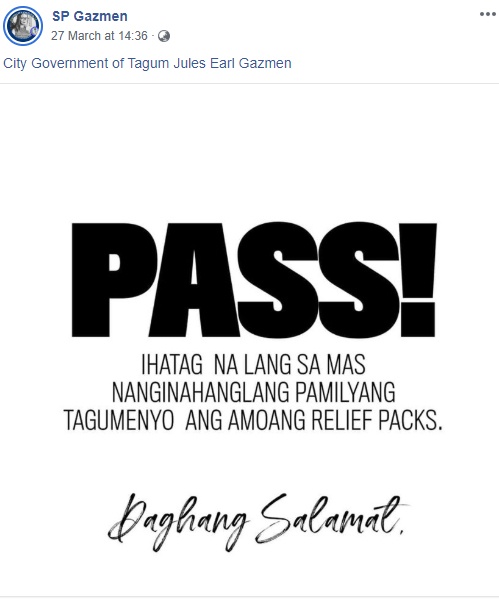 The positivity of Tagumenyos continues to elevate the morale of other families who are economically challenged and are struggling to make ends meet. This random act of kindness keeps the motivation and also encourages other rich people to do the same.
PHnews.Net salutes to these good Samaritans in Tagum City. We are both inspired and enthusiastic in writing this article and proud as well knowing that one of the content writers in this website also lived in Tagum city during his childhood years. Mabuhay Tagumenyos!
This work is licensed under a
Creative Commons Attribution-NonCommercial 4.0 International License
.