RED ALERT! Biglaang Pagtaas ng Covid-19 Cases sa Pilipinas naitala ng DOH
Manila, Philippines – After the joyful celebration and holiday activities in the country, the Department Of Health(DOH) released a very alarming data regarding the sudden surge of Covid-19 cases in various locations. Data shown by the health bureau is drawing fear noting that it recorded 4,600 new confirmed cases as of January 2, 2022, Sunday 4p.m.
This latest Covid-19 case update should serve as a critical warning to all Filipinos that vaccines are not a plain cure to the disease especially that the Omicron is so very dangerous, invasive, and most contagious variant of Covid-19. From the registered data of DOH, one can tell that the spread of the deadly virus could have been triggered by the mass movement and close contact of people during the Christmas holiday sale in various malls, night markets, and eat-all-you-can restaurants which catered large number of people in their establishments.
From the the graphical representation of covid-19 cases in the Philippines, the sudden uptick of positive cases started to occur in 3rd week of December. The viral issue of Makati "Poblacion girl' who allegedly skipped quarantine period during her stay in Berjaya Hotel could have also infected dozens of people who were present in the party she attended in the nearby restaurant. The quarantine skipper was later identified as Gwenyth Chua, a beautiful multi-millionaire woman who just arrived from United States.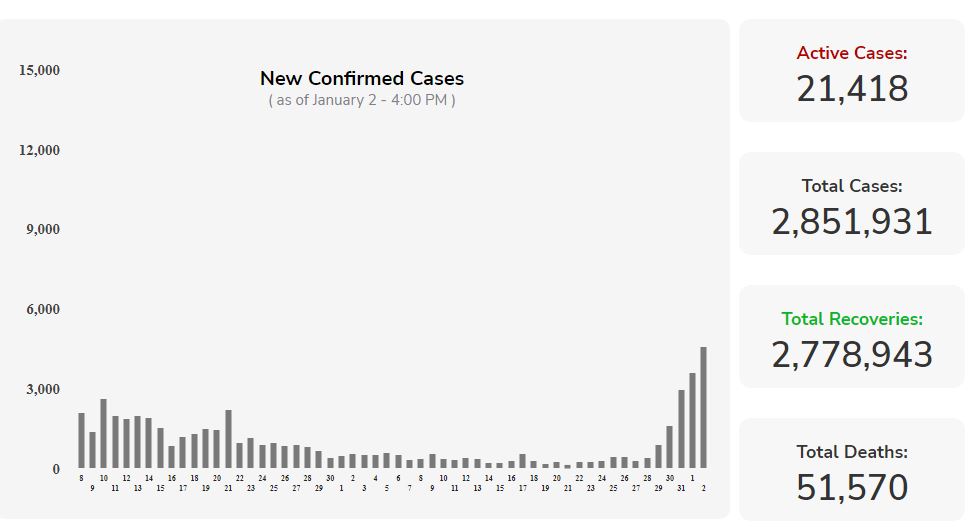 With the rapid increase of Covid-19 cases, many people are now experiencing dilemma when they travel to their workplaces as they might be infected by the deadly Omicron virus. Government officials are now being questioned why there was lack of control during the peak of the holiday season knowing that asymptomatic patients might have contracted the disease to several individuals in the community. 
Meanwhile, Pasay City Mayor Emi Calixto-Rubiano has contracted SARS-CoV-2, the virus that causes COVID-19 for the second time, the Pasay City Public Information Office said. Another politician in Navotas–Mayor Toby Tiangco, announced on Sunday that he had tested positive.
We are highly encouraging everyone to always practice safe distance and possibly stay away from crowded areas as much as possible. Observe all health protocols issued by the local government units to minimize the spread of Corona virus. We also suggest everyone to take vitamins and other food supplements to ensure that your body's immune system remains capable to combat virus attacks.
This work is licensed under a
Creative Commons Attribution-NonCommercial 4.0 International License
.