President BBM Official Statement Regarding Jessica Soho Presidential Interview Invitation
Posted on
Jan 22, 2022
/
By
Felipe Curae
/
in
News Scoop
Manila, Philippines – The camp of President Ferdinand "BongBong" Marcos thru his Chief of Staff and Spokesperson Attorney Victor D. Rodriguez officially released a statement regarding the decision of BBM not to accept the Presidential interview invication of Jessica Soho.
On January 22, 2022 a press release statement was issued by lawyer Victor Rodriguez to address unwanted speculations and irrational reasoning of opposing parties on why BBM rejected the interview invite of Jessica Soho from GMA network. The said statement has been published by several local news outlets in the country.
Here's the full content of the letter.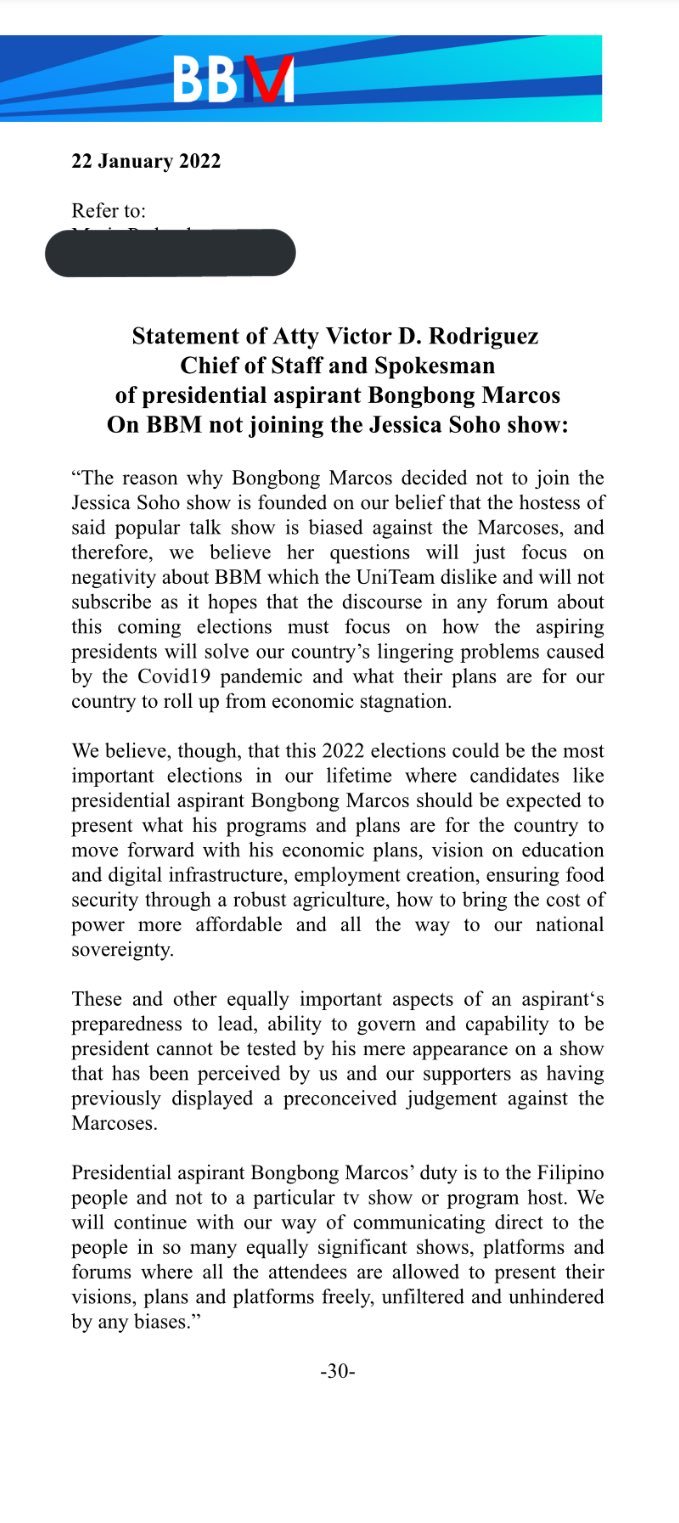 Statement of Atty Victor D. Rodriguez 
Chief of Staff and Spokesman of presidential aspirant Bongbong Marcos 
On BBM not joining the Jessica Soho Show:
"The reason reason why Bongbong Marcos decided not to join the Jessica Soho show is founded on our belief that the hostess of said popular talk show is biased against the Marcoses, and therefore, we believe her questions will just focus on negativity about BBM which the UniTeam dislike and will not subscribe as it hopes that the discourse in any forum about this coming elections must focus on how the aspiring presidents will solve our country's lingering problems caused by Covid19 pandemic and what their plans are for our country to roll up from economic stagnation.

 

We believe, though, that this 2022 elections could be the most important elections in our lifetime where candidates like presidential aspirant Bongbong Marcos should be expected to present what his programs and plans are for the country to move forward with his economic plans, vision on education security through a robust agriculture, how to bring the cost of power more affordable and all the way to our national sovereignty.

 

These and other equally important aspects of an aspirant's preparedness to lead, ability to govern and capability to be president cannot be tested by his mere appearance on a show that has been perceived by us and our supporters as having previously displayed a preconceived judgment against the Marcoses.

 

Presidential aspirant Bongbong Marcos' duty is to the Filipino people and not to a particular tv show or program host. We will continue with our way of communicating direct to the people in so many equally significant shows, platforms and forums where all the attendees are allowed to present their visions, plans and platform freely, unfiltered and unhindered by any biases."
End of the letter.
This work is licensed under a
Creative Commons Attribution-NonCommercial 4.0 International License
.
Latest
Tagum City, Philippines - CNN captioned the rally of Leni Robredo in Tagum City with around 35,000 supporters stormed to the venue while other posts on social media mentioned 65,000 and even 155,000 attendees. The said reports were being criticized for…
View »
Manila, Philippines – Jessica Soho allegedly lost Php28.7 million from top advertisers who supposedly committed to get commercial ad slots in her Presidential interview of four(4) candidates. The said news is currently circulating on Twitter and…
View »
Manila, Philippines – The camp of President Ferdinand "BongBong" Marcos thru his Chief of Staff and Spokesperson Attorney Victor D. Rodriguez officially released a statement regarding the decision of BBM not to accept the Presidential…
View »